Variety's New Lit Rag Boffo on Pub Row
The blockbuster news of this year's publishing season has centered on the make-over of the show-business publication VARIETY. Tired of sleaze turned out by the motion picture and television industries and sensing turned up volume of big-bucks in the metaphor trade, editors of VARIETY are eyeing a smashero Book Review. The activities of Variety's crack literary team have been, up to now, hush-hush, but we have managed to cornea some articles on the drawing board. Here is what astute readers can look forward to:
LITERAVARIETY, Vol.l, No. l
WITS NIT PICK PICS
(Editors promise a sizzling critique of the collected film reviews of Kael, Simon, Sarris, Reed, et. al.)
NEW DIRECTIONS' BIG WIGS TO FEST WITH WILLIAM CARLOS WILLIAMS B.O. BLAZING'
FROSTS' "MENDING WALL" FLIRTS WITH 2 MIL, BUT OFF 37% IN READERSHIP. 12 MIL TO DATE
NOB PRIZE GOOM-BAHS BLAH-BLAHING FOR POPPA BEAR G. GREENE WHOSE MAYHEM COLLARS CLERICS
BEN JONSON'S SONG TO CELIA: HIGH CONCEPT, LOW HUM
UPDIKE'S "S" CORRALS A CUTIE
WILL'S PLUCKY MOOR READY TO 23 SKIDOO IN AN ANNI BLITZ OF GLITZ
MILTON'S BEEFCAKE PARADISE MURKY IN STOCKHOLM. FINISHING 3rd. SWEDEN WEEDIN' EDEN.
MLA TO EYEBALL BEOWULF SEZ YALIE DAILIE
CHAUCER'S JOCKEYS PUTS MADE TO ORDER COUPLET SHLOCK TO SHAME
CANTOS PACE GOTHAM'S BIGGIES; F'S WAKE OFF TO SOFT START; TRUMP BIO WOWS AT 500G'S.
DANTE FIZZLES IN DENVER; SPUNKY SPENSER IN SPRINGFIELD SIZZLE. ASHBERY TOPS WEAK WEEK.
MUPPETS' PLUCKY PORKER HAMS IT UP BUT LOCAL YOKELS YELL FOWL; BANTAM HUDDLES OVER A MISS PIGGY KISS AND TELL
WITTGENSTEIN SUCCULENT; KANT PASSABLE; DESCARTES SPLITS TOWN WITH 40G's.
♦
Little known moments in Literature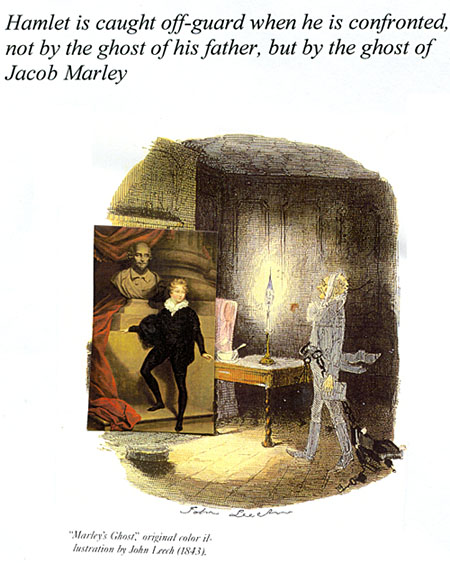 ♦
If Walt Disney Had Painted the Fall of Icarus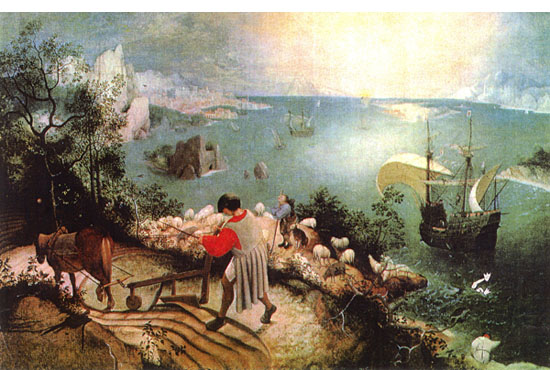 ♦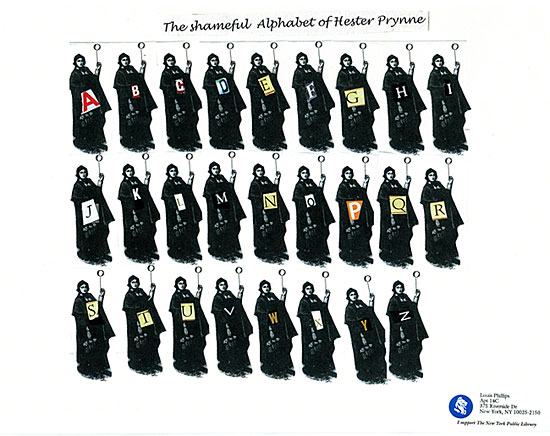 ♦
I have discovered that when it comes to reading recipes in cookbooks I am a bit dyslexic. For New Year's Day, I thought I would prepare Chicken With Origami, so I spent at least 3 hours folding papers into shapes of swans until my wife entered the kitchen and pointed out that I was supposed to be making Chicken with Oregano.
♦
I am very obedient person. On my way to work, I saw a sign that said WATCH REPAIRS, and so I did.
♦
I did not realize just how low I ranked on the financial totem pole until my wife and I recently flew to North Carolina, and after much negotiation, we were finally upgraded to Economy Class.
♦
One of the reasons that sex is a very popular sport is that it doesn't require a lot of expensive or exotic equipment. All you need is a bicycle helmet And shin guides.
♦
In Army movies, an officer enters the barracks and tells the men "As you were." I have always wondered how that is possible? Does the military have a Time Machine?
♦
♦
The Tido: A Lost Socratic Dialogue
Over the centuries, or at least during the last few years, the great philosopher Socrates has been frequently criticized for concentrating on metaphysics rather than tackling the real problems that haunt the lives of ordinary men and women. For example, few people outside the Republican Party know what truth is, but many persons know the meaning of laundry. Is it possible that Socrates could have travelled barefoot through a half-a-dozen or so dialogues without once tackling the problem of doing the wash? Or did he always wear the same dirty sheet to his meetings?
At last, thanks to the tireless researches of Dr. John Filagree III of the University of Chicago, we are able to shed new light on the above questions.
Last year, Dr. Filagree III, while travelling through the backstreets of Athens, stumbled upon a hand-laundry whose owners had preserved what had been hitherto thought a lost dialogue of Socrates.: THE TIDO. With Dr. Filagree's kind permission, and drawing upon his expert translation, we are pleased to present for the first time an aspect of Socrates that has rarely been discussed.
The Tido
The Tido takes place sometime between the birth and the death of Socrates. Socrates is visited in his local laundromat — The Tido — by his old friend Eryximachus. Eryximachus, not to be confused with the physician who charged exorbitant rates for curing cases of hiccups in other not so authentic dialogues, is a gentle, hen-pecked detergent salesman whose most noble ambition in life is to elucidate the brightness of things. Thus, he is frequently alluded to by Plato, I.F. Stone, and others as the perfect philosopher.
In the original fragment, the dialogue is told to Appollodorus, who repeats it to his companion Oprhamenides who had read a brief excerpt of it in Consumer Reports, that had been reprinting notes taken during Symposium on the role of the washerwoman in the perfect state.
Socrates: Ah, Eryximachus, what brings you out on a day like this?
Eryxmachus: A day like what?
Socrates: A Day like Tuesday.
Eryxmachus: There is no day like Tuesday. There is only Tuesday and then there are all the other days.
Socrates: I stand corrected.
Eryxmachus: Indeed, I am not out, but in. In the Tido as it were.
Socrates: In, Out — What's the difference?
Eryxmachus: Is not out the opposite of In? In the opposite of Out? Are not all things defined by their opposites. Dirty, clean, for example.
Socrates: Tell me, dear Eryxmachus, have you ever considered what causes dirty things to become clean?
Eryxmachus: Impotence.
Socrates: Impotence?
Eryxmachus: Just kidding.
Socrates: Be serious, for once in your life. Here we are, two old gentlemen, labouring like scrubwomen over the wash. Washing , taking out the garbage, and picking up after our children take up 40 per cent of our waking hours (according to a poll taken by Simmias). Should we not then understand the underlying principles that govern such tasks?
Eryxmachus shrugs. He takes out his dirty laundry and then some detergent.
Eryxmachus: Use Phaedo Soap and your philosophic underpinnings will turn out smelling fresh.
Socrates: The true Philosopher never turns away from bleach.
Eryxmachus: Bleaching is for Sophists.
Socrates: You have the grayest syllogisms in all of Greece.
Eryxmachus: You don't believe the ads? When I was a young man I was sent to the Oracle of Delhi to enquire what soap is best.
Socrates: You went to the oracle of Delphi to enquire what soap is best?
Eryxmachus: There's no need for you to repeat everything I say.
Socrates: Of course, there is. It fleshes out a paper-thin lecture. It's my method of teaching.
Eryxmachus: Ah yes. The Platonic Method, I believe it is called. Socrates: Not the Platonic Method! The Socratic Method.
Eryxmachus: I get confused. In which kind of Method do you get to have sex?
Socrates: We're talking about laundry, not about sex.
Eryxmachus: Come off it. I am not the one who goes roaming through the Agora, exhorting every nubile maiden in sight, "Let's get Metaphysical Let's get Metaphysical!"
Socrates: May we continue on a higher plane?
Eryxmachus: Very well. I shall follow your approach — We shall define our terms. Laundry is something we do once a week. Correct?
Socrates: Correct.
Eryxmachus: And sex is something we do once a week?
Socrates: Right.
Eryxmachus: Therefore, sex and laundry must be one and the same thing.
Socrates: Or at least closely related... But consider this O Eryxmachus .. Must we not ask ourselves that which is liable to be cleaned.
Eryxmachus: Are not all things liable to be cleaned?
Socrates: I should think not. Let us consider that there clean things and dirty things. Clean things will eventually become dirty. Dirty things will eventually become clean. Each tends toward its opposite. This is called the Doctrine of Tendencies.
Eryxmachus: Does dirty clothing tend toward cleanliness on its own?
Socrates: Not on its own, otherwise there would be no need for advertising. But tell me, Erymachus, is it imaginable to imagine flute-players, but no flutes?
Eryxmachus: Absolutely not.
Socrates: Horsemanship and no horses?
Eryxmachus: Ridiculous.
Socrates: Philosophy and no part-time Philosophy teachers?
Eryxmachus: Nonsense.
Socrates: Therefore, it is impossible to consider clothing without persons to do laundry.
Eryxmachus: Very true, O Socrates. Nor should anyone do laundry without Phaedo Soap.
Socrates: Or some soap. For with soap, we may proceed further to enquire what happens when dirty clothes are placed in clean water. Does not the water become dirty?
Eryxmachus: That has been true from my experience.
Socrates: Then how do you suppose clothes get clean from dirty water? Should not the dirt flow back and forth, first from the clothing toward the water and then from the water back into the clothing?
Eryxmachus: Oh excellent question, Socrates!
Socrates: What keeps that from happening is the notion of dispersion. Does it not follow that when I expend energy by rubbing the clothes or beating them against a dryer or clothes washer that particles of dirt become loosened or dispersed?
Eryxmachus: No doubt, O Socrates.
Socrates: And then we may proceed even further to enquire whether that which suffers dispersions is or not of the nature of the cleansing process itself — our choice as to which is the correct course of action will turn upon the answer to these questions. Eryxmachus: As long as you use my detergent I care not what conclusion you arrive at.
Socrates: Don't tell me you are a Soapist?
Before Eryxmachus can answer this very serious charge, the doors to the Tido open and an inebriated Alcibiades enters. Alcibiades bows to his friends and quickly removes his clothing, stuffing the garments into one of the empty machines: Eryxmachus: Alcibiades, we hope you will join our discussion. Socrates, as usual, is arguing, by means of analogy, He is attempting to show that Philosophy is a kind of soft soap that causes the dispersion of dirt among clean minds.
Alcibiades: Alas!
Eryxmachus: More than Alas I should think.
Alcibiades: Eryxmachus, come stand here between us. I am washing the socks of comedy and I must keep my eyes upon them.
Socrates: Are objects better cleaned with the hand or with the soul? i.e. which is the better cause of dispersions?
Alcibiades groans, hits his forehead with the flat of his hand, and the dialogue breaks off.
♦
Notes
l. It should be noted, and indeed is frequently noted, that Socrates does use the word GARMENT in his dialogues, but in the Phaedo, the word uttered in the same breath as HORSES. This indicates that Socrates own garments may not well have been sweet-smelling. His appearance at the Tido was certainly not the norm.
2. There was, of course, no Tuesday in ancient Greece. We are using Tuesday the same way that Socrates uses terms such as SOUL, BEAUTY, and EQUALITY — merely for sake of argument. We can only assume that the absence of a Tuesday in the old days made getting through the week quite a chore.
3. Simmias also predicted the Defeat of Truman.
4. Much of this dialogue took place before the Kinsey/Hite Reports were made manifest. Naturally allowances should be made for changes in mating and laundering habits. Some persons today are known to do their laundry together before marriage, a practice much frowned upon in the ancient world.
5. The analogy between doing Philosophy and doing Laundry was not original with Socrates. He cribbed it from the Nausicaa episode of THE ODYSSEY.